Simoniz is a highly respected name among auto enthusiasts. Simoniz car chemicals are incredibly effective for professional auto detailing. Products include degreasers, waxes, glass cleaners, upholstery cleaners, tire shiners, and much more. Benami Autocare has Simoniz detailing chemicals available at affordable distributor prices.
Product Info:
Simoniz® TrimTastic® is a exterior dressing with semi-permanent coating used to restore faded and rough bumpers, racks, trim, moldings, tonneau covers, and mirror covers. This product will bring back the natural shine to unpainted, porous, plastic surfaces on vehicles. Simoniz® TrimTastic is wash resistant and will provide months of protection over any other type of dressing.
How to Use:
Thoroughly clean your trim with Simoniz® Wash N' Shine car soap or Simoniz® Crush Plus cleaner degreaser. Make sure your trim is completely dry.
Apply dressing onto an applicator pad.
Wipe dressing onto surface to desired gloss in thin, even applications.
Allow surface to dry to the touch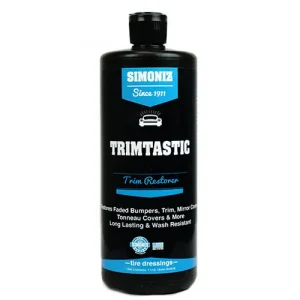 Simoniz: Dust Buster
Simoniz: Dust Buster liquid rim cleaner destroys brake dust build-up. This product is a wheel and tire cleaner which removes brake dust and leaves rims clean and shiny. Customers will love the easier wheel-cleaning capabilities, making Dust Buster a great addition to your car wash soap supply. Add to your processes to give your customers and yourself more to work with. Acidic liquid cleaning compound can also be used as a first step in a two-step acid/alkaline car wash system.